Sad News for the Academy.

We have lost a Senior Cadet. Frankie Thomas - Tom Corbett - passed away during the evening of May 11th 2006 as a result of complications of a stroke.The Academy will be building a memorial page for Frankie's many fans to express their thoughts and memories of a friend and a childhood hero. If you have a favorite picture or a memory to share, email cadeted (@) solarguard.com with your thoughts and memories for the memorial page.

Frankie's friend of many years and comrade in space,Jan Merlin,reported the sad news to Frankie's fans and friends.

This will be Frankie's memorial start page for the Academy. Cadet Memories of Frankie starts here

| Solar Guard Home | Tom Corbett Page |
Report from Jan Merlin:

May 11th, 2006:
Frankie Thomas, Jr., died this evening at the Sherman Oaks Hospital of respiratory failure while recovering from a stroke.
We've lost Tom Corbett... Regretfully, Jan Merlin

Later in the day:
Frank requested that he be buried in his Space Cadet uniform..and will be placed in a plot next to his father and mother, Frank M. Thomas and Mona Bruns. We were all stunned, though we had felt he would not be able to make it after he suffered a stroke on the 29th of April. He was then hoping to hold a delayed Aries birthday party for those of us who were born in April, and when he arrived at the restaurant where his guests were gathering, I immediately rushed him off to a nearby hospital. He was in poor shape then... but after being treated he demanded to be allowed to go home. The hospital could not legally hold him.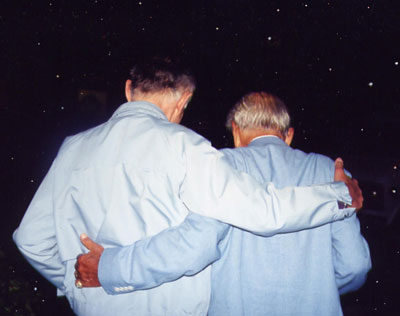 We had him and Mary to dinner soon after, on the 6th of May, at our house... during which he attempted to appear okay, but was obviously not doing well. In the morning of the 10th of May, Mary took him to the Sherman Oaks Hospital near his condo because of his failing condition. I wasn't able to see him there that day or evening. Barbara and I got to visit him yesterday morning (May 11th) ... he was awake and getting more tests. Mary and I helped him eat some breakfast... and we spoke about some changes in the script we were to do in Victorville. After an hour's visit, Barbara and I went home, but we knew he wasn't going to survive. We were notified about Frankie's death at 10:45 pm that evening of May 11th......

We join Jan, Barbara, Mary, Frankie's family and friends in mourning the loss of a friend, mentor and a hero from our childhood.
Spaceman's Luck ....
Cadet Ed