MONSTER RALLY 99
Crystal City, Virginia
August 6 - 8, 1999
With Ed Kemmer
---
The Arlington Virginia Monster Rally combined fans of Monster/horror movies and 1950's Science Fiction together for a unique convention. A lot of energy and effort went into the affair. With time, this may be a possible avenue for Space Opera fans of the 1950's to meet and rekindle some of that Space Magic of the early shows.
Monster Rally brought fans from many states and even some from Canada to the event located across the Potomac from the Nation's Capitol. The drawing card for seven Academy cadets was the Commander of the Space Patrol… Ed Kemmer!! Cadets Chuck Lassen, Jack McKirgan, Mike Elmo, Clyde Lyman , Marianne and Tom Schaad and myself (Cadet Ed Pippin) made our way from all parts of the country to meet the legendary Commander.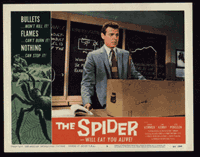 No one was disappointed with their meeting with the Commander. Ed never tired of answering our questions and was a professional in every sense. When a fan asked how much he charged for his autograph he was horrified responding with " No charge... this is FUN!!!"
The following pages will document some of the events of our meeting with Ed Kemmer, Commander in Chief of the Space Patrol. Thanks Commander Corry for being there while we were growing up and for your willingness to share those memories with your fans now.
Onward to the pictures......

Cadets Arrive
Ed Meets his fans
Honors for the Commander
Comments and Observations of the Event
An interview session with the Commander
Back to
Ed's Home page
|.. Tom Corbett ..|.. Space Patrol ..|.. Solar Guard HQ ..|.. Site Map ..|
Comments & suggestions may be sent to the Solar Guard Academy