SOLAR GUARD REUNION 2006




Jan Merlin and Frankie Thomas

Opening page

SOLAR GUARD REUNION 2003

With Jan Merlin, Frankie Thomas and Ed Kemmer.

Go to the

Opening Page

for the start of your tour of the 2003 Reunion.
WELCOME to the revised SPACE OPERA website. This is the same site that started as a one page call for fans of the 1950s SF Television Shows . That was in December of 1996 and the response was more than expected and still continues. The SOLAR GUARD honors all aspects of Space Opera throughout the different imaginary universes. The call is still out so join us at the Academy and enter the:
AGE OF THE CONQUEST OF SPACE!!!!

Cadet Ed here (better known as Ed Pippin) and I'm looking for a few good space cadets!!! Actually the call is out for any science fiction fan who shares an interest in early television space adventures. Early science fiction television shows were part of the "cutting" edge of technology for the 1950s with LIVE broadcasts & special effects. The 1950s "new media" (television) was changing from the "horse opera" of the past to the "space opera" of the future. This site will attempt to preserve some of the early history of Science Fiction Television . Space Opera may not be the best term for that 50s Sense of Wonder, but it comes close. With that said....all of you Space Cadets, Space Patrollers, Video Rangers or Rocket Rangers, contact me at my e-mail address and lets get together and remember the early adventures of the Space Patrol, Rocky Jones, Tom Corbett, Capt Video and other early pioneers. Onward to the 1950s" Mid-Century Future's Past"
Cadet Ed
---
Continued research by the cadets of the Solar Guard Academy will result in new pages and updates to existing pages, sooo... return from time to time and find out what's new. Some pages may download slowly due to the number of graphics associated with the page so cool your jets ... and enjoy.


Send your Comments or corrections to Cadet Ed at the Academy.
---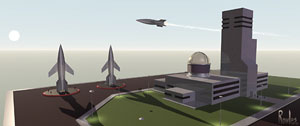 Main Links to the Solar Guard
SciFi Channel's SITE OF THE WEEK
December 18th, 2000
---


Website and Articles not otherwise noted © 1996-2015 by Ed Pippin
blastoff rockets & academy Artwork © Ed Rowles and used with permission by the artist