---
The Ralston Rocket- Another Space Cadet's visit to
Gent, New York Summer 1985
---
Cadet Rick DeMeis provide some interesting shots of the Ralston Rocket from his visit to the Rocket in June of 1985. The time frame is the same as Dale Ames's visit. Maybe Rick and Dale passed each other on their trips? The Academy thanks Rick for the following pictures of his visit to the Rocket in the Summer of 1985.

---

The following information was obtained from emails and placed into an interview format. Rick's pictures include some nice interior shots of the Rocket.

Solar Guard: How did you hear about the rocket?
RICK: I seem to remember it being mentioned either in the old Space Academy Newsletters or else the word just spread among the fans at the time that the rocket was by the side of the road in Ghent, NY. I was surprised some years later when I drove by and it wasn't there.

Solar Guard: What was the most outstanding feature of the rocket?:
RICK: I seem to remember what may have been the frames for bunks in the back. I didn't have a flash, so I couldn't get pictures of the interior spaces that weren't lit by the outside light. I also remember there was a hornets nest somewhere on the rocket as well!

My big question is...... Was the instrument panel, made of wood and painted (you can see the grain in the original slides), and using mostly automobile gauges with a couple of old aircraft instruments, the original? The seats in the rocket, with two dummies in them, were also just jury-rigged wooden affairs and didn't seem original.

Solar Guard: Rick presents another good question:
RICK: Has anyone actually seen the original interior when the rocket was on tour or else has photos of the inside from that time?

Solar Guard: There are pictures of the interior from the Ads on the TV shows. Someone fast on the snappy trigger could grab some and we can compare them.

Now for Rick's tour of the RALSTON ROCKET.........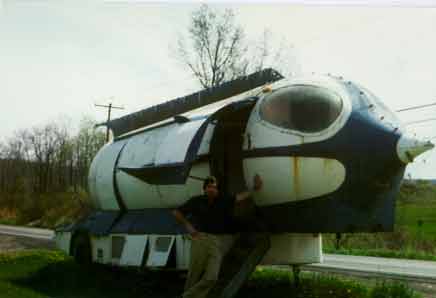 Rick DeMeis and the Ralston Rocket

Entry to the Rocket

Note the Christmas lights on the Rocket

Road side view of Rocket- Santa is looking out

Tail view- with trucking company in front of Rocket

Staring down the rocket tubes

Rear view with Christmas lights



THE INTERIOR OF THE RALSTON ROCKET



Looking out of the view port toward the office.

Looking out of the Rocket tubes from the front of the Rocket (near the bunk bed area)

Looking into the cockpit from the mid section. Note dummies in chairs

Control center for the Ralston Rocket



An excellent photo tour with interior shots of the Ralston Rocket in it's last known surroundings. Thanks again to Rick for sharing his visit to the Rocket with fellow cadets.



Return to
Ralston Rocket Page Ralston Rocket Comments

Comments & suggestions may be sent to the Solar Guard Academy