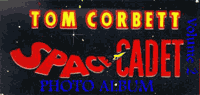 ---
Reunion!
Recognize these gentlemen? It's the original cast of "Tom Corbett, Space Cadet"together for the first time in forty years since Jan Merlin left the show. The occasion was the October 1993 "Friends of Old Time Radio" convention in Newark, NJ. The "cadets" staged a re-creation of a Tom Corbett radio show for the audience, complete with melodramatic organ music, sound effects, and the original announcer, Jackson Beck. Producer George Gould also joined in the festivities.

From left to right:
Al Markim (Astro)
Jan Merlin (Roger Manning)
Edward Bryce (Captain Steve Strong)
Frankie Thomas (Tom Corbett)



Photo 1- Photo courtesy of Jan Merlin

Check out Jan Merlin's page for his impression of the Reunion
A good time was had by all!
---



|... Photo Album Index ...|... Section 42-D ...|... TC Home ...|
---