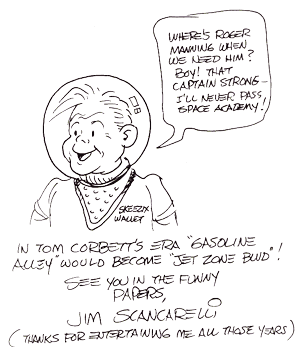 ANCIENT HISTORY
From Diaries Roger Manning never kept...
Roger Manning hangs up his Space Suit and Heads for Hollywood
Chuck Lassen asked about a rumor he'd heard that there was a serious feeling of 'rivalry' between the members of our Space Cadet production team and the Space Patrol group. That's news to me. We knew about them but working long hours as we did, there was no opportunity to watch other productions. Generally, the only way we could see our own episodes was to gather at the production office and watch kinescopes. I managed to catch an episode of the Space Patrol once and thought it a comedy format and long afterwards, in Hollywood, I felt very sorry for the actor who played Cadet Happy because his career ended with the termination of that series and he was having a hard time.
We never met, but I did encounter Ed Kemmer at a Memphis film fest several years ago, and neither of us had any awareness of any 'rivalry' or competitive attitudes on the part of our respective shows; if anything, there was an instant feeling of companionship, as if we'd served in the same wars.
Lynn Osborn,(Cadet Happy),was a casualty to his own success. The danger of being identified with a specific character or type of show often spelled the doom of a career think of the actors who portrayed Dick Tracy, Tarzan, Superman..(I refer to George Reeves in that instance) .. all had a difficult time trying to break into other roles. Karloff, Lugosi, and Chaney jr., found themselves trapped in the characters they had created and ended by doing them in dreadful comedies, or not work at all. I was keenly aware of this professional hazard and it was the major reason for my exit from the Space Cadets. I didn't want to remain Roger Manning forever, and left to do plays and films to establish a different sort of career. In fact, when I arrived in Hollywood, I didn't mention having been in the series at all whenever asked for a resume of my former work in show business. As the West Coast certainly was familiar with Space Patrol, more so than the Space Cadets, I got away with not revealing that segment of my past.
But don't get me wrong. I look back on those days as Roger with fondness. I had a fine time doing the series, and our cast got along famously, never losing affection for one another. Yet I know I made the right decision and would do the same again.
It was a reluctant departure. The first time I quit the show I took my first wife, Patricia, for an overdue honeymoon on an East African safari. We went through the troubled country of Kenya, which was undergoing the Mau Mau revolt, and traveled through Uganda, Ruanda Ruindi, the Belgian Congo, circled Lake Victoria and stood at the Nile's beginning, went to Kilimanjaro to marvel at the animal population.(It was something we talked about years later when Pat lay dying of cancer and we tried to recall happier times.) And the journey finally came to an end and we were back in New York. It was the summer of 1953 and I was unemployed and there was only summer stock for theatrical work. When I got a call from Albert Aley about returning to the series, I accepted, having had my fill of playing roles in barns and little theatres.
And quit again the next Spring.
In April, 1954 I received excellent notices for playing 'Brandon' in an off Broadway production of ROPE by Patrick Hamilton. Because of it, I was cast into a film to be shot in Boston, SIX BRIDGES TO CROSS, and was then taken to Hollywood to do the rest of the shoot. My reaction to the place was to have my wife bring all our possessions West; we found a house to rent and became permanent California residents. A telegram from Albert Aley couldn't budge me.
I was busier than a bird dog in a field of starlings, cast to work with stars I'd seen in movies since childhood. I was tagged from the outset as a 'heavy' and found myself menacing Edward G. Robinson in my second film, ILLEGAL. Our very first scene took place in the Warner Bros. parking lot, where I was to pick him up and take him to my boss. Rehearsing, I stuck my blue steel gat under his nose and began to laugh. Mr. Robinson eyed me quizzically and asked what was so funny. "I never dreamt I would be sticking up Little Caesar," I replied, and we became fast friends afterwards. A genuine gent, he was; one of the great old school of actors.
Another of those. was Sylvia Sidney. Having been raised on the lower East Side of New York City, I had a special awe of her, having seen her in DEAD END, and now I was threatening her and Stephen McNally in a Celebrity Playhouse episode, THE HOUSE BETWEEN FLAGS, a Civil War tale. Miss Sidney would sit patiently between takes, absorbed in exquisite embroidery, and when the camera rolled, she ruled the stage.
Anybody know where I can get a copy of that show? I've been hunting for ages to find a tape of it without success.
I worked with Stephen again about twenty years later, gunning him down in HELLBENT FOR LEATHER only to be killed in turn by Audie Murphy. As you can see, I had slipped easily out of my space suit to don black cowboy hats and blacker Nazi helmets, along with numerous gangster suits..rarely playing a nice guy, once as an American Captain in SCREAMING EAGLES, and as one of the three steady stars of ROUGH RIDERS. I had traded my imaginary trips to the planets for real ones to foreign locations ... can you imagine Roger ending up as Ann Sheridan's husband? We filmed WOMAN AND THE HUNTER * for three months in, the Northern Frontier District of Kenya, eating the game we shot, sleeping in tents or on cots under the star strewn skies, wishing we'd had a better script.
Yeah, I made the right decision.
I have a new wife now, Barbara, who I refer to as my wild Irish Rose. She played a tiny part in a film we did in the Philippines, SILK II, but isn't an actress and not in the business. But she's my fan and I'm hers. We're both surprised that people have such nostalgia for the Space Cadet series .. and delighted to meet them at the events we attend. Maybe we'll see you at one of those things .. look for the guy in the Western duds; you'll find Roger Manning hiding under the Stetson..




* For further info on the African movie, see HOLLYWOOD HUSSAR, an autobiography by John Loder, who played my father in the film. Published by Howard Baker Press Limited, 1977.
---
NOTE:Thanks Jan for sharing your drawing done for you by Jim Scancarelli, artist for the ageless GASOLINE ALLEY comic strip. Jan met Jim at a Charlotte, NC film festival and exchanged pictures. It seems Mr. Scancarelli is a TC fan as well. Welcome aboard Cadet Jim, glad to have another Space Cadet at the Academy. Cadet Ed
---
Return to Jan's Page
Comments & suggestions may be sent to the Solar Guard Academy