---
JAN MERLIN
"Roger Manning" Space Cadet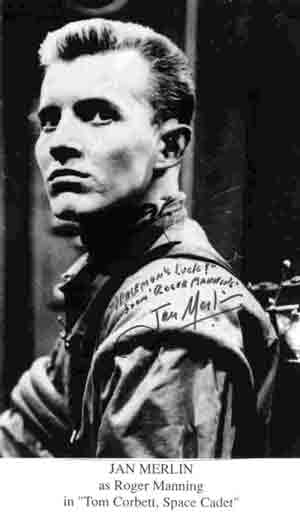 Born:
New York City, April 3, 1925
Education:
P.S.15, Grace Church Choir School For Boys, (which served as Jan's Church for his marriage as well as for the recent marriage of David Ducovony of the X-files) and Stuyvesant High School.
Military Service:
Enlisted in US Navy April, 1942, served as a destroyer torpedoman until April 1946, honorably discharged.
Medals and Ribbons:
American Campaign, European African Middle Eastern Campaign with one battle star, Asiatic Pacific Campaign with six battle stars, Asian Occupation Service medal (Japan), Navy Unit Commendation Ribbon (Radar Picket Duty-Okinawa), Philippines Liberation Ribbon Metal, Philippine Republic Presidental Unit Citation Badge issued by Philippine Republic Government, Victory medal, Good Conduct medal.
Career Movement:
Studied acting at The Neighborhood Playhouse School of the Theatre in New York City and made Broadway debut in MISTER ROBERTS..after two years left the show to play 'Roger Manning' in Tom Corbett, Space Cadet.

Left Tom Corbett after three years and approximately 550 live television and 50 radio shows to resume acting in theatre by appearing as Brandon in the play ROPE, for which he received raves from the New York critics brave enough to attend an Off Broadway Show in a cabaret theatre in the Greenwich Village section of New york.
Hired for first film role by Universal in Six Bridges To Cross. In 1954, the head writer and producer of the Tom Corbett Show, Albert Aley , requested Jan to return for the 4th year. See "The Telegram" below for Jan's answer.
Currently retired from acting and devoting time to writing novels.

BROCADE -First novel published by AVON BOOKS in 1982,reissued in 1999. A novel based on the Occupation of Japan after World War II and contains some insight into Jan's love of the Theater.
SHOOTING MONTEZUMA The plot is about a real film but in a fictional account.
GUNBEARER -An adventure set in darkest Africa from 1857 to 1862.
CRACKPOTS - Short stories from the Philippine Republic to early Hollywood's version of early New York Greenwich Village.
KING OF THE JUNGLE -A novel about a struggling Polish immigrant family in New York City during the Depression Era.
See the Solar Guard Library page for updates on availability of Jan's Novels.

Jan's Notes:
I still see Frankie Thomas frequently since we live a short distance from one another, and we both have seen Al Markim whenever he manages to get out to the Coast. The entire cast, including Ed Bryce, appeared in a re- creation of one of our radio shows for The Friends Of Old Time Radio Convention in Newark, New Jersey in October of 1993. Perhaps the last time such a thing might occur, unless some other convention should invite us to be their guests while we are still able to appear, hale and hearty and still the same..well, almost.


Bibliography
| Television | The Telegram | Jan's Appearances |
---
Roger Manning's Diary
| Thoughts on Live TV |
| Old Time Radio Reunion Oct 1993 |
| Hollywood Bound |
| Space Cadets |
---
Return To:
| Hall of Fame |
Comments & suggestions may be sent to the Solar Guard Academy