Lyn Osborn
"Cadet Happy" of the Space Patrol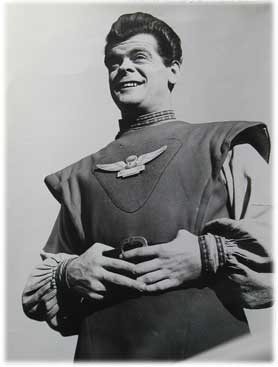 Born:
Wichita Falls, Texas, January 21, 1926

Education:
College of Theatre Arts, Pasadena Playhouse

Military Service:
Enlisted in the Navy, in 1943, two months after graduating from High School, and served 3 years, as aerial gunner-radio man. In 1944, he was stationed in Miami FL, and was flying in a Grumman Avenger, the latest US Navy Torpedo Bomber, according to a picture postcard to his mom. Later, he was stationed other places, including Hawaii and Grosse Isle, near his home in Michigan. The war ended before he ever saw combat.

Lyn's Early Years, as told by sister, Beth:

He was born Clois Lynn Osborn on January 21, 1926, in the middle of a blizzard, in Wichita Falls, Texas. I was 20 months older, and trying to say brother, I called him "Buddy", and it stuck with him, all his life. He was never ever called "Clois". When he was 3 years old, our family moved to Michigan, living first in Muskegeon, and then in Lincoln Park, near Detroit. Dad was in the oil business, and worked long hours. Mom spent her time raising us, and was always very supportive in whatever we were interested in. When Bud was 10, she enrolled us in a community theatre group, which he loved, and I guess that was the thing that got him steered toward show business. In school, he was the class clown, always entertaining the kids, even then. He excelled in High School Drama classes, and played clarinet, flute & piccolo in the marching band. He loved being in the band, and I soon followed, with my new saxophone, and Mom joined the "Band Boosters". Those were fun years, and we all had loving memories of the good times we had and the great friends we made in the band. Then came the war! My boy friend of 2 years, Bill Flood, joined the Marines, the day he became 18, and he was sent to California, I followed, and we got married. He was soon shipped out to the Pacific, and I went home. About that time, Buddy joined the Navy, and was sent to the Naval Training Station, in Chicago. We didn't see either of them for a long time.


Life After the war from Lyn's letters, interviews, and my memories:

After discharge, He went to work as a busboy in the Pump Room in the Ambassador East Hotel in Chicago, then as a candy butcher, selling candy in Rialto burlesque theater. Next, he hitchhiked to California, and went to work as bellhop, busboy, waiter etc., at Mount Wilson Hotel, up by the observatory. Then he came down the hill, and drove a cab in Pasadena. He finally enrolled in the Pasadena Playhouse for a 3-year course, on the GI Bill, and did 15 plays there. He also dropped the Clois from his name, and became just Lyn Osborn, for show business. Those were hard years, as the GI Bill only paid about $50 a month to live on. We had many letters that mentioned he was completely out of money, even though he did part time work, whenever he could find it. Mom & I were always sending him a few bucks, so he could eat. On March 9, 1950, ten days before graduation, he got his big break, when he started as Cadet Happy in Space Patrol, and the rest is history. After 1200 live TV episodes, 200 radio episodes, and personal appearances & benefits all over the country, the show was canceled on March 7, 1955. Lyn did some free lance TV shows & Movies, after that, but became ill, and died Aug 30, 1958, after brain surgery, at UCLA Medical Center. He is buried at Forest Lawn Memorial Park, in Glendale.


CAREER: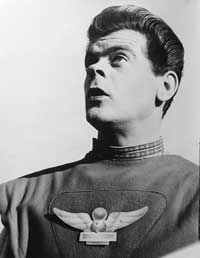 MOTION PICTURES
Up Front
Invasion of the Saucer Men
The Amazing Colossal Man
Torpedo Run
Firebug
Too Much, Too Soon
The Cosmic Man From Outer Space
Top Secret Affair
Arson For Hire
Stars in the Backyard


TELEVISION
Navy Log (2)
Silent Service - "The Perch's New Role"
The Line-Up
Private Secretary (several)
Betty White Show
Annapolis
Those whiting girls (2)
Zane Gray
Alcoa
Jim Bowie - "Johnnie Appleseed"
Jim Bowie - "A Grave for Jim Bowie"
Jim Bowie - "Epitaph for an Indian"
Sugarfoot
Telephone Time - "Here Lies Francois Gold"
The Thin Man - "The Dead Giveaway"
Life of Riley
Leave it to Beaver
Playhouse 90 - "The Big Slide"
Playhouse 90 - "Requiem For a Heavyweight"
Goodyear Playhouse
Susie - "Livewire"
Susie - "Little Bo-Bop"'
Arson for Hire
Fireside Theatre - "The Pardoner's Tale"
ARTICLES:
Valley Times- August 25, 1952- Newspaper article by Lyn relating back to the start of his Space Patrol part.
Variety- April 29, 1952- Space Patrol News- March 9th 1950 start date
TV Guide-(date????)- Space Patrol review - March 9th start date
Lyn's March 9th Letter to his Mom- Gives the start date of Space Patrol.
Return to Hall of Fame
Comments & suggestions may be sent to the Solar Guard Academy