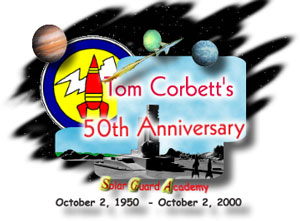 Tom Corbett's 50th ANNIVERSARY
Tom Corbett
It has been 50 years since Tom Corbett blasted across the CBS network into our living rooms. Who would have thought that after 50 years that this "children's" show would still be remembered? What was the magic of the show that keeps these memories alive for half a century?
Was it the start of the "Space Age" that caught the imagination of so many future cadets? Or was it the novelty of the new household appliance of 1950's American.. the Television set? Each cadet has a different answer. One thing is for sure… it made a GREAT impression on all who watched and remembered.
Be sure to check out all of the pages for new material during the 50th Anniversary year of the Tom Corbett show. Space Week will just be the beginning of a year long celebration of the Tom Corbett show.

I hope you enjoy our salute to the show and those who created those special childhood memories. For a special treat, two of the original crew members of the Polaris unit have sent in their greetings for the celebration. Click on their pictures below for a brief salute and look for the full version in the Space Week pages.
Please feel free to contact the Academy with suggestions or contributions to the celebration.
Cadet Ed





The following sound clips are in Real Media /Real Audio format. A free player may be downloaded at http://www.real.com. Clips will run with Windows Media Player as well.




For a longer greeting from Frankie and Jan go to their greetings page

Turn up the volume on your Computer and LISTEN to the official SPACE ACADEMY SONG as sung by the Academy Chorus




Anniversary Pages
Introduction Space Week Dedication page Links

Return to :
| Tom Corbett Home Page | Solar Guard Home Page |
Comments & suggestions may be sent to the Solar Guard Academy
&copy 2000 Solar Guard Academy