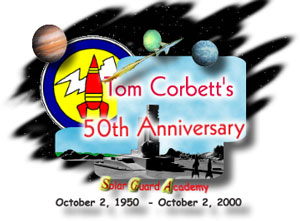 INTRODUCTION
Tom Corbett's debut on October 2, 1950 began much like the Space Patrol series, one of the lead characters would be replaced soon after the show began. Capt. Strong was first played by Michael Harvey, but was replaced by Edward Bryce after the second week because Harvey could not remember his lines. The show aired on Monday, Wednesday and Friday as 15-minute cliffhanger episodes sponsored by Kellogg's of Battle Creek.
The Tom Corbett show would last five years traveling to all four National Networks (CBS, NBC, ABC and DuMONT) and changing sponsors at least three times (Kellogg's, Red Goose Shoes and Kraft Foods). Kellogg's was by far the largest promoter of the show and spawned many of the collectibles that are sought after by fans today.
The show did not "talk down" to its young audience and the "Sense of Wonder" of space travel was not lost on its fans. However, the real chemistry of the show was the characters and the actors who played them. Three "crew mates" thrown together in the "New World of Tomorrow" to form a team (The Polaris Unit). The unit, along with their mentors (Capt. Strong, Dr. Dale and Commander Arkwright), would prove that they were more able to meet the challenge of space travel. In our eyes, the members of the Polaris unit were just like "us" or who we would be when we grew up.
Many fine actors began their careers on Tom Corbett and would star in future TV series; Jan Merlin, Tom Poston, Frank Sutton, John Fiedler and many who were hidden by either makeup or camera angle. Still others arrived with impressive credentials. Frank Thomas Jr. was a noted stage star and had several movie series to his credit; Tim Tyler's Luck, Nancy Drew and several movies from the 1940's including THE MAJOR AND THE MINOR. It was a grand mix of talent that would make a memorable series for future generations of cadets to remember.





Anniversary Pages
Introduction Space Week Dedication page Links

Return to :
| TC Anniversary Page | Tom Corbett Home Page |
Comments & suggestions may be sent to the Solar Guard Academy
&copy 2000 Solar Guard Academy