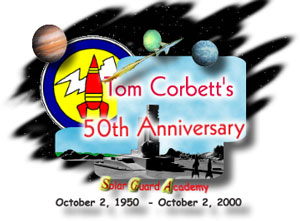 New as of 11/29/2000
SPACE WEEK
In the spirit of Tom Corbett's "SPACE WEEK" we begin the 50th Anniversary with TOM CORBETT ANNIVERSARY WEEK on October 2nd 2000. The week from October 2 - 9, 2000 will contain downloads celebrating the 50th year of the show. The Solar Guard Academy will continue to remember the show's 50th Anniversary throughout the year with additional pages, downloads and events. The pages will become a permanent part of the Academy archives for future cadets.
As a start, Bruce David is discounting both his Tom Corbett and Space Patrol tapes on his website SwapSale during the kick off Anniversary week from October 2nd to the 9th, 2000.
A Tom Corbett Screen Saver will be available during the anniversary week in October.
Jack McKirgan's New Tom Corbett FIRST COMMAND will be featured.
AND
Other pages and projects will be developed during the year, so stay tuned and lets celebrate. As always, feel free to contact the Academy with suggestions or contributions to the celebration.
Cadet Ed






SPECIAL ITEMS AND PAGES:

TOM CORBETT SCREEN SAVER - This screen saver has a mid sound file attached that gives the impression of the fast pace for the live show. A sound background of theTC Academy March would be better. Anyone want to record the song into a mid file ? It would make a great background for the screen saver. Let me know if you can. Meanwhile blastoff with Tom,Roger and Astro with the Tom Corbett Screen Saver. added 11/29/00

The OFFICIAL SPACE ACADEMY SONG in Real Audio format. Turn up the volume on your Computer and LISTEN to the SPACE ACADEMY SONG as sung by the Academy Chorus. ( 1 min 30 sec - 185 Kb) Additonal information on the chorus and song can be found on the Solarguard site on the Tom Corbett MARCH AND PLEDGE page. added 11/10/00

TOM CORBETT video tapes - Bruce David has a number of the early Tom Corbett video tapes for sale on his site. I have always gotten good quality tapes from Bruce. Drop by his SwapSale site and tell him Cadet Ed sent you.

FIRST COMMAND - A New Tom Corbett Novel by Jack McKirgan. The Polaris Unit is commissioned for a dangerous assignment on Venus. Don't miss out on this new novel by Cadet Jack McKirgan II.

POLARIS CREW greetings. A longer greeting from Frankie and Jan to the Cadets of the Academy.



Anniversary Pages
Introduction Space Week Dedication page Links

Return to :
| TC Anniversary Page | Tom Corbett Home Page |
Comments & suggestions may be sent to the Solar Guard Academy
&copy 2000 Solar Guard Academy